The 20th Tateyama Wakashio Marathon Race




Tateyama City, Chiba Pref.




January 30, 2000

Races

| | |
| --- | --- |
| Full | 3400(10:00 started) |
| 10km | 1800(10:30 started) |
| 2km | 140(10:35 started) |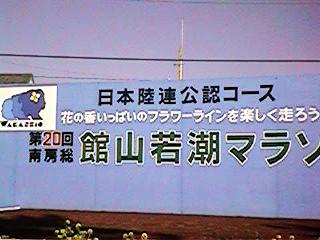 Display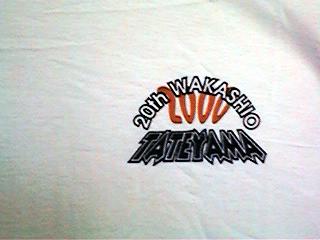 T-shirt logo

Record & Impression




Last year, I was forced to cancel this full marathon race since I hurted the left knee.
This year, I left my home before 5:00 AM. since I had to take the first train.
According to weekly weather forecast, it would be rainy. However, fortunately, it was fine. Besides, the weatherman said it would be warm and the temperature would rise to 14 degrees althouh it was cold in the morning.
I took the Limited Express "Sazanami No.16" from Tokyo Station. It was my first case to take a limited express for marathon race. I felt that I was a rich man! The reserved seats were all occupied. More than half passengers were runners.
Special train was arranged for the marathon race, which started at 5:30 from Kinshicho station. However, I could not catch up with it. That the reason why I took the limited express.
I arrived at Tateyama station at 8:45. I took the free shuttle bus from there.
When I finally arrived in the athletic field, it was over 9:00! I had to hurry to register since the time limit was basically 9:00 AM. I could meet my running mates there.
The full marathon race would start at 10:00. However, I arrived after 9:00 and thus I felt so busy and had not enough time to prepare.
It was my second full marathon race. Thus I preprared with care and I did'nt drink previous night.
It was not so cold as forecasted. However, it was very windy, which I did not expect.
The race started as scheduled. It took 3 minuites to the starting point as I was ordered to line at the end.
I could start slowly since I made line at almost the end of the runners.
You can see the sea just after start. It was very windy and big white waves surged. It was not good for running.
After a while, the runners were forced to run one-side only of the narrow road. There were many runners and thus it was difficult to pass. This condition continued until I passed 10km point. I was compelled to run a little bit slower than I could.
After passing a 15km point, I could sometimes see Mt Fuji with white snow vaguely over the sea. I was glad since the reason why I joined this race was to see Mt. Fuji. It might be wonderful if there was no haze.
I could run in good condition between 15km and 20km. However, there was a dune and thus I was annoyed with strong wind containing sand.
During the first half, you can see the sea at the right side and enjoy the scenery. However, this time, it was too windy.
From the 25km point, the up-and-downs start. You will encounter three big up-and-downs. A lot of runners were walking there. The uphill to the 30km point is hardest to run up. However, I tried not to walk and run as much as possible.
You can get water, sports-drink, bananas, bread and candies at the water supply points located every 5km. You don't need to worry about hunger. Volunteers also set up water supply points.
After passing 30km point, small rice balls were served. It was so delicious.
At 32km point, the course will merge with the course which runners run in the morning. I finally felt exhausted there.
It was hard for me to run the last 10km. I sometimes thought to walk. However, I managed to run as much as possible. I felt that the running pace was slowing down little by little.
During the last 5km, the distance was indicated every 1km. I felt that each 1km was so far away!
At the 40km point, it took almost 4 hours. Average running speed per hour was 10km. The split times are as follows:



Split Time



| | |
| --- | --- |
| 5km | 32m |
| 10km | 1h02m |
| 15km | 1h30m |
| 20km | 1h57m |
| Middle Point | 2h05m |
| 25km | 2h28m |
| 30km | 2h57m |
| 35km | 3h28m |
| 40km | 3h59m |
| Goal | 4h14m |



The last 2km was the hardest distance for me. The pace was very slow and thus many runners passed me. The only luck was that it was strong back-wind.
The goal time was 4 hours 14 minutes. (Net time : 4h11m)
The time of previous full marathon race was 4 hours 20 minutes and thus I could shorten the time.
I thought I might run within 4 hours when I was running around 20km point. However, it was impossible owing to strong wind and several up-and-downs. However, I am satisfied that I could run 42.195km.
Anyway, I felt that the full marathon race is much harder than half marathon race. I respect the runners who join many full marathon races in a year!
I will try to run within 4 hours next time.
The cheerings of gallery encouraged me although they were almost old ladies.
After the goal, I went to Tateyama station by shuttle bus with Mr. N. We looked for the restaurant for late lunch. However, there was few restaurant. We finally found Sushi restaurant. We drank a toast with Sashimi dishes. The hot Japanese Sake was very delicious! Thus we ordered several hot Sake bottles!
Finally we took on the local train bound for Chiba city. We again started to drink Sake. However, Mr. N fell into asleep after taking only one sip. Thus I continued to drink by myself looking at the night scenery from the train window.
I got muscles pains and therefore I had to apply compress medicine on the legs after the race.
---
Back