The 15th Narita POP Run



Date: Sunday November 4, 2001 Weather: Fine

Location: Narita City, Chiba Pref.


Details of Race: Refer to the 14th Narita POP Run


Images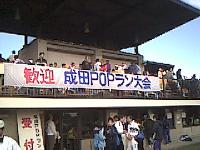 Stand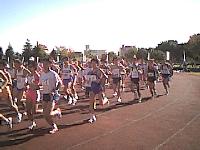 Start of Half-marathon Race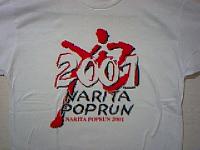 T-shirt



Record & Impression


When I awaked in the dawn, it was still raining since it had started around the noon on Saturaday.
According to the weather forecast, it would be fine on Sunday.
I fiinally got out of bed at 4:30 AM, however, it was still rainy! I couldn't trust weatherman!
Finally, the rain stopped when I left home at 5:30 AM. The blue sky started to appear in the cloud.
It was cold in the morning of November. I hurried to Higashi-kurume station by bicycle in the dark.
It takes much time (almost 3 hours) from my home to Narita City due to the fact that the trains from JR Tokyo to Narita are very limited.
Anyway, I arrived in Narita station at 8:30 AM as I did so far. It took 10 minutes to the site from the station on foot.
Three my running mates were to join me. However, to my regret, only one joined.
So far, every year, I have joined half-marathon race. However, 3 years ago, I joined half-marathon race on two consecutive Sunday. As a result, I hurted my left knee and was instructed by doctor to stop running for three months.
This is my bad memory and thus I decided to join 10 km race this time since I joined Teganuma Half Marathon Race just 1 week ago.
The 10 km race started at 10:15. Approx. 800 runners joined.
It was fine and the sun was shining strongly as if it were summer. The weatherman said the temperature might be up to 20 degrees Centigrade.
I joined the 10 km race after a long interval. Surely, the running pace of 10 km race seemd to be faster than that of half marathon race.
Gradual upward road continued at the first half of the course.
Since I usually train at flat course, it was hard for me to run even a short upward course.
On the contrary, the last half of the course became downward. (The part of start/last courses duplicate those of half marathon race.)
Just 40 minutes passed when I arrived in 8 km point.
I thought I might finish within 50 minutes and I started to rush to the goal.
It took more than 45 minutes when I passed 9 km point and I guessed it might be impossible to run within 50 minutes.
Anyway, I tried my best to run as fast as possible , which was very hard for me.
The goal time was 49 minutes 59 seconds!
It seemed that more ladies and gals joined the 10 km race in comparison with half marathon race since the distance is reasonable.
At the initial stage, I was running in the last part of the runners and thus I could run among the ladies for a while!
Even after the goal, the sun was strongly shining. It seems that it was a little bit hotter for marathon race.
After the race, we went to the eel restaurant and had a drink party as usual.
I also met other my running mates there who joined 3 km race. We make it a rule to meet the restaurant every year after the race. We drank, chatted and had a very good time.
It's good to meet and drink with running mates after the race!
Back