The 9th Ogawa-machi Marathon Race



Date: Sunday December 9, 2001 Weather: Fine

Location: Ogawa-machi, Saitama Pref. (15 minutes by bus from Ogawa-machi Station of Tojo Line)


Details of Race: Refer to the 8th Ogawa-machi Marathon Race.


Images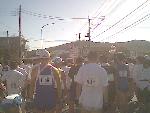 Start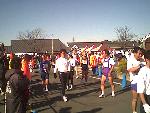 Runners at goal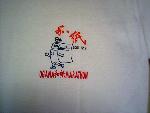 T-Shirt



Record & Impression
I left home before 7:00 AM. It was fine and very cold. The ground was covered with frost and white!
I arrived in Ogawa-machi Station at 8:45 AM. Many runners made lines for free shuttle bus.
This year, the number of shuttle bus was not so many and thus many runners started to walk who did not want to wait for long time. Of course, I waited.
Finally I arrived in the site after 9:00 AM. When I handed the entry card at the reception, the receptionist shouted "Lucky Prize!" I did not understand what she said. When I went to the prize exchange booth, I found that I won 1000 sheets of Orizuru (Folded paper crane) Color Papers. Really I was lucky at the last marathon race in 2001. I joined this race many times, but I did not know the existance of lucky prize so far.
While waiting for start, I happened to meet Mr. F from Higashi-kurume city there!
It was fine, however, strong north wind was blowing and it was cold. Thus I decided to wear long T-shirt and long pants.
Last two years, the race was not half, but 20 km. This year, the race became half again. It's a very good news for runners.
The half marathon race started at 10:20 AM. I almost forgot the details of first half course of the race after a long interval.
I slightly remembered that there was gradual upward slope. Actually, there were several up-and-downs! Besides, since a strong head wind was blowing, it was hard to run than expected.
The split time of 5 km was 24 minutes. That of 10 km was 50 minutes. The pace was faster than usual for me.
1 hour and 15 minutes passed at 15 km point. I was competing with older man and young gal to the goal.
I rushed to the goal from the last 2 km point. The split time at 20 km was 1 hour 40 minutes. I finally passed the young gal!
My goal time was 1 hour 44 minutes 29 secnds, which is my best record for half marathon race so far. It was hard for me to complete!
After the race, I visited my old friend's house. We enjoyed drinking/chattering as usual.
This time I ran faster than usual and thus I felt muscular pain next day!
I happily completed all marathon races in 2001. I will try my best in 2002!
Back