21st frost-bite roadrace



Date: Sunday January 13, 2002 Weather: Fine

Location: Inagi-city, Tokyo (10 minutes on foot from JR Minamitama Station of Nambu Line)


Details of RaceRefer to Yokota Striders Frostbite Foot Race.


IMAGES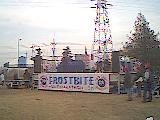 Opening Ceremony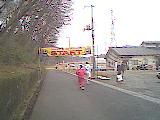 Start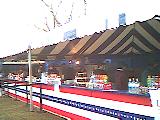 Food Booth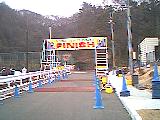 Finish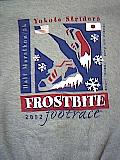 Long-sleeve Shirt



Record
9 km : 52 minutes
Goal (18 km) : 1 hour 45 minutes 13 Seconds
IMPRESSION
It took only 50 minutes from my home to the site. It was 8:30 AM and I had to wait for two hours for start.
It was cloudy and chilly when starting. The starting time of 18 km Male Race was 10:30 AM.
Immediately after the start, the course became unpaved uproad. It was hard to run from the beginning. Soon the course was in the golf course and the course became up-and-down. The scenery on the top hill was very good.
While running the second round, the top ladies group who started 10 minutes behind passed me. To my regret, I could not catch up with them.
The goal time was normal since there were lot of ups-and-downs.
It was only after the goal when the sun appeared and it warmed.
This time, only one my running mate joined the race. We cheered with canned beer after the goal. Then we had a small party at the noodle restaurant near Fuchu-hommachi Station.
ABOUT THE RACE
I wondered if the race would be held owing to the terrorism in the US in September 2001. I was relieved to learn that the race was held by changing the site from Yokota Air Base to the US Recreation Center in Inagi-city. You have to indicate the ID to enter the center.
The half marathon race was changed to 18 km race. (To run 9-km course twice)
There are a nice baseball ground and an excellent golf course in the center. The main course was in the golf course and it frequently rises and falls. It should be more wonderful if the turf was green.
The number of runners decreased drastically in compariosn with that of last year. The JR station and the reception were not crowded.
The starting point was so narrow that the male race and female race were , to my regret, separated this year.
There were three water-supply points.
There were three unpaved portions in the course and it was hard to run there.
The last 1-km was very downward slope.
The design of long-sleeve shirt is much better than that of last year. I like it very much. (No memorial coin this year!)
Back