Narita POP Run (The 17th)



Date : Monday November 3, 2003 Weather : Cloudy occasionally rainy

Location : Narita City, Chiba Pref.


Details of RaceRefer to The 14th Narita POP RUN


IMAGES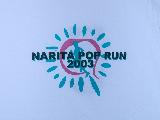 T-shirt



Records & Impression


Until Saturday noon, the weatherman said it would be fair weather on Sunday. However, the forecast suddenly changed at night to be rainy. I was annoyed with it.
Furthermore, I got one shocked news. Just a few days before the race , I was told that my running mate, a master of Japanese pub restaurant, a leader of Tsudanuma Ebisu Team , suddenly passed away owing to cerebral hemorrhage. Every year, we met at the eel restaurant in front of Narita Station to have after-the-race party. Thus I had been looking forward to seeing him. The only reason I had joined the race was to meet and drink with him after the race. No one can guess one's future right!!!
Anyway, as forecasted, it was cloudy in the early Sunday morning. I was unwilling to run in the rain.
I arrived in Narita around 8:30 AM. After finishing the registration, I occupied the space under the eaves of the stadium to avoid the rain.
Opening ceremony was held from 9:00 AM. This year, two runners were chosen by lot for the runners of London marathon race. The sponsor was Adidas Japan. The first winner was decided immediately. However, it took much time to select the second winner since no one came out as a winner and the lot was repeated until the winner came out.
The half marathon race started at 10:00 AM. It was cloudy, but when started, the sun slightly came out and it became a little bit hot and humid.
I started with my own running pace. Unfortunately, it started to rain after 20 minutes contrary to my expectation. So far, it had never rained on this marathon day.
The rain once ceased and re-started during the race although it did not rain hard.
Split time: 5 km --- 28 minutes. 10 km --- 54 minutes. 15 km --- 1 hour 20 minutes.
During the rear half of the race, I wanted to go to the toilet, however, I was running in the course of rice fields, where was no bush to hide. Finally, I could find the appropriate bush around 15 km point. I was relived.
Goal time was 1 hour 53 minutes. So-so.
I had heard that the member of Tsudanuma Ebisu Team would gather at the eel restaurant after the race, I hastened to the restaurant immediately after finsihing the race. I could drink Japanese sake with members and recall the master.
I took on the limited express of Keisei Line with drunk and sat down the seat. However, I could come back home without problem this time.
I did not have any pains or damages although I joined two half marathon races during two weekends.
Back