Tateyama Wakashio Marathon Race (The 24th)



Date : Sunday January 25, 2004 Weather : Sunny

Location : Tateyama City, Chiba Pref.


Details of RaceRefer to the 21st Tateyama Wakashio Marathon Race.


Course Map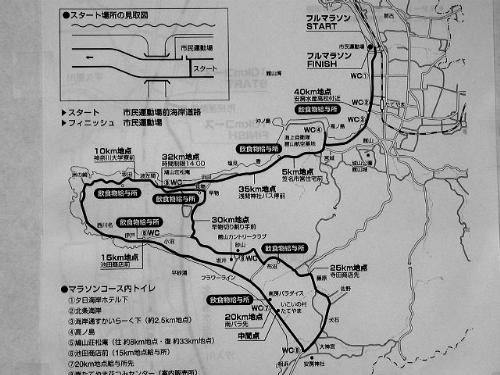 ‹L˜^
| | |
| --- | --- |
| 5 km | 29 minutes |
| 10 km | 57 minutes |
| 15 km | 1 hour 20 minutes |
| 20 km | 1 hour 50 minutes |
| Half | 1 hour 55 minutes |
| 25 km | 2 hours 17 minutes |
| 30 km | 2 hours 45 minutes |
| 35 km | 3 hours 13 minutes |
| 40 km | 3 hours 40 minutes |
| Goal | 3 hours 52 minutes |
Records & Impression
Last year, I was forced to give up the race although I registered since I had caught a cold.
This year, I had been careful not to catch a cold and thus I got up at 4:00 AM and left home before 5:00 AM to catch the first train from Higashi-kurume Station.
The temperature was minus 4 degrees Centigrade. It was freezing.
The weatherman said at previous night that even the lowest temperature in Tateyama would be minus 5 degrees in the morning.
I arrived in Tokyo Station past 6:00 AM and took on the limited express "Sazanami/Ripples" bound for Tateyama City. I met my running mate, Mr. Y, in the train.
Shortly after the train started, I could see beautiful sunrise from Tokyo Bay.
I arrived in Tateyama at 8:45 AM. I rushed to the shuttle bus stop, however, there was no bus there.
I had to wait for a while to ride on the bus.
I reached the site around 9:00 AM. The site was already occupied by runners. It took time to find out the place to put vinyl seat for changing wears.
Anyway, after changing the wears, I got a few bundles of rape blossoms from free gift booth.
Runners were gathered at 9:45 AM. They had to make lines according to numbers.
The race started at 10:00 AM. It was sunny, warm and breezing. I passed the start line after one minute from the start.
Until 10 km point, I ran at my own running pace. For a while, it was difficult to pass since the course was narrow and crowded.
The cold wind was blowing while running the seashore course.
The passing time at 15 km was 1 hour 20 minutes. I felt that the pace was a little bit slow and I started to speed up.
When running around 20 km, the wind stopped and I started to sweat.
Totally speaking, the wind was not strong and it was not cold as expected. It was fine weather for marathon race.
I could easily run up the slope around 30 km point where I used to have difficulity.
I could keep good condition until 30 km.
I could see the aid station which was operated voluntarily every year after passing 30 km point. Runners could have small rice ball and tea there. I had to pass this year since my stomach was full.
However, during the last 4 km, I was a little bit exhausted and slowed down.
I tried to run with my vigor as much as possible. However, I felt that every 1 km seemed to be more than 1 km.
Finally I finshed. The goal time was 3 hours 52 minutes, which was the tie of my best record so far.
When I came back to the station with my fried by bus, it was 2:30 PM.
We found that only one local train was available per hour on the Uchibo Line. We were forced to take on the limited express with extra cost. Anyway, we got on the limited express, which left 3:11 PM.
In the train, we had an after-the-race party with Japanese Sake.
I felt good and fell into asleep for a while. When we reached Tokyo Station, it was past 5:00 PM. I could come home around 6:15 PM. It was much earlier than scheduled.

Others


Contrary to my expectation (?), the pork soup served after the race was delicious this year.
To my regret, the number of gal runners was very small. I could not enjoy running with gals.
I could only see the snowed part of Mt. Fuji this year owing to haze.
Back