Wakashio Marathon Race (The 28th)



Date: Sunday, January 27, 2008 Weather: Sunny occasionally cloudy

Location: Tateyama City, Chibas Pref.


Details of RaceFRefer to the 21st Wakashi Marathon Race.


IMAGE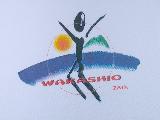 T Shirt (Backj

Record

| | |
| --- | --- |
| 5 km | 27 minutes |
| 10 km | 53 minutes |
| 15 km | 1 hour 20 minutes |
| 20 km | 1 hour 50 minutes |
| Middle Point | 1 hour 57 minutes |
| 25 km | 2 hours 27 minutes |
| 30 km | 2 hours 57 minutes |
| 35 km | ? |
| 40 km | 4 hours 14 minutes |
| Goal | 4 hours 30 minutes |
Impression
Cold weather had continued in January.
I left home before 5:00 AM to catch the first train to be left at 8:09 AM. It was fine and freezing.
I got on subway at Ikebukuro and arrived in Tokyo Station around 6:00 AM.
I got on the limited express to be left at 6:45 AM. I did not have a reserved ticket and thus I had to line up for non-reserved seat in advance. The train was new. The non-reserved seats were almost occupied before start.
The train reached Tateyama at 8:34 AM. I immediately got on the shuttle bus in front of the station. The bus went to the marathon site smoothly this year.
After registration, I prepared for start. It was still cold.
I wondered which wears I had to put on. After all, I decided to run with short pant and long-sleeve shirt.
At 9:45 AM, I went to the start line. The full marathon race started at 10:00 AM. It was announced that the temperature was 4.9 degrees Centigrade. It was surely cold!!
This time, I had worry that I did not train enough for the race. I foolishly had cold just before the race and I could not run for 2 weeks.
Anyway, my target was to complete the race this time.
The sea was calm when I arrived, however, it was agitated when I was running.
I could run as usual until 10 km point.
I expected that I could see Mt. Fuji clearly over the sea this year, however, regrettally, only vague figure could be seen. But when I went out to the open sea, I could see Ohshima Island covering with snow clearly far away.
It was announced that two running pace makers (Sub-three and Sub-four) ran this year.
After passing 15 km point, my running pace gradually slowed down. The follow-on runners started to pass me.
Around 18 km point, the sub-four female running pace maker with a group of runners passed me. I tried to catch up with them, but I could not. I had to give up sub-four at this point.
The time of middle point was 1 hour 57 minutes. The running pace further decreased. I was getting discouraged and wondered if I stopped to run at 30 km point. Anyway, the running pace between 25 km and 30 km was worst.
Somehow, I held on and reached 30 km-point. However, I was forced to walk at the slope past 30 km point. although I had not walked for a long time during the races lately.
I could have rice balls and hot tea at the privately-operated aid station and I could refresh.
I regained control of myself and decided to complete the race at any cost.
I got relieved after I did not care the goal time. I ran as slow as possible.
At the gradual slopes, I walked without hesitation. I did not mind anymore the runners passed me. Finally my running mate, Mr. Y, passed me. around 35 km point.
I felt the last 5 km was so long. My running pace deteriorated so much.
During last 2 km, it took 8 to 9 minutes to run 1 km!
Finally I could manage to finish the race. The goal time was 4 hours 30 minutes!!
It was so cold that I did not seat at all. I did not have any damage.
I could warm up the body with free pork miso-soup. The sweet bean paste soup with rice cakes was also served this year. But I did not taste it. It was said that it was too sweet!
We went back to the station by shuttle bus around 15:00 and went into the cafe to drink beer.
We made line on the platform to keep the non-reserved seats for the limited express to be left at 16:11.
During the time, the locomotive D51, which ran between Katsuura and Tateyama as event, came into the station. A lot of amateur cameramen ran on the platform for shooting the locomotive.
We could get the seat easily, but shortly was fully occupied.
We had an after-the-race party with Japanese sake I brought in the train until the train reached Tokyo Station.
I got home around 19:30. This time, I re-learned that the following moral lessons: In order to accomplish the goal, never give up and never lose my confidence!!
Owing to a lack of training, I had a muscle ache next day after a long interval!! Enough training is also inevitable.
Back