Tateyama Wakashio Marathon Race (The 29th)



Date: Sunday, January 25, 2009 Weather: Fine

Location: Tateyama City, Chiba Pref.


Details of RacePlease refer to the 21st Tateyama Wakashio Marathon Race.


Image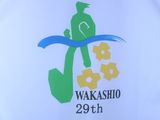 T-Shirt

Records

| | |
| --- | --- |
| 5 km | 29 minutres |
| 10 km | 58 minutes |
| 15 km | 1 hour 24 minutes |
| 20 km | 1 hour 51 minutes |
| Middle Point | 1 hour 58 minutes |
| 25 km | 2 hours 19 minutes |
| 30 km | 2 hours 49 minutes |
| 35 km | 3 hours 19 minutes |
| 40 km | 3 hours 49 minutes |
| Goal | 4 hours o2 minutes |
Impression
According to weather forecast, it would be fine on Sunday. However, it would be severely cold. Anyway, I was relived that I would not need to run in the rain.
I left home before 5:00 AM. I took on the limited express train to be started at 6:45 AM from Tokyo Station to Tateyama. Most of the passengers were runners.
On arrival, I could get on the free shuttle bus from the station. Owing to fine weather, I found that I could see snow-covered Mt. Fuji from the bus window over the sea. I joined this marathon race several times, but for the first time I knew that I could see Mt. Fuji in front of the sea. Owing to strong wind, the sea was stormy and it seemed to be very cold outside.
After registration, first, I went to get a bunch of flowers of field mustard. Then, I changed the wears and strolled around the marathon site. A lot of booths were there and many souvenirs were sold.
I was on the start line around 9:45 AM. The sun was shining and it was warm if the wind did not blow, but cold wind was blowing.
The loss time to the starting point was almost a minute.
Shortly after the start, the runners could see the sea on the right side. The cold wind blew from the sea. I could see Mt. Fuji over the sea, however, I had to catch up with other runners and had no time to see Mt. Fuji.
This time, I thought I was running at a good running pace from the beginning. However, the time at 5 km was 29 minutes and that of 10 km was 58 minutes. Contrary to my expectation, my running pace was not so good.
Anyway, I continued to run as fast as I could.
I saw a sailor-suited schoolgirl with blond-hair running. However, I found that she was a dressed-up male runner. She (He?) was fully cheered by roadside people.
This time, I could continuously see marvelous Mt. Fuji over the sea until I ran to the open sea. I was much impressed that Mt. Fuji was getting larger until I reached the open sea.
When reaching Suzaki, I saw wonderful contrast between white Suzaki lighthouse and blue sky.
I could see both Mt. Fuji on the right side and Ohshima Is. on the left side over open sea.
The wind was still strongly blowing at open sea.
The time at the middle point was 1 hour 58 minutes. I might complete the race within 4 hours.
It was hard to run between 20 km and 30 km, but I could run up the slope past 30 km point.
As usual, I could get two small rice balls at privately operated aid station and was refreshed.
After passing 33 km point, runners had to run up several gentle slopes. Every time, it was hard fro me to run.
Anyway, I had to continue to run, but I was getting tired.
When I saw an indication of "5 km to the goal", I thought no more slope, however, I was shocked to learn that I had to run up one more slope.
The last 3 km to the goal was so hard for me to run. I wished I could finish the race within 4 hours.
The time at 40 km point was 3 hours 49 minutes. Just a bit more!
I ran as fast as possible during the last 1 km. However, the goal time was 4 hours 02 minutes. I was completely exhausted after the race.
I joined the race by myself. After having one cup of free pork soup (The taste was not so good.), I changed wears and got into the bus to the station.
The reserved seats of the limited express to Tokyo were fully booked. I took one canned beer and one-cup Japanese sake in the train and fell asleep imperceptibly.
Tateyama is far away from Higashi-kurume. I was exhausted this time.
Back