Tateyama Wakashio Marathon Race (The 31st)



Date: Sunday, January 30, 2011Weather: Sunny, then cloudy again sunny

Location: Tateyama City, Chiba Preg.


Details of raceRefer to the 21st Tateyama Wakashi Marathon Race.


Image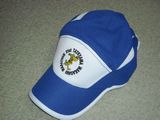 Cap

Record

| | |
| --- | --- |
| 5 km | 29 minutes |
| 10 km | 58 km |
| 15 km | 1 hour 26 minutes |
| 20 minutes | 1 hour 58 minutes |
| Middle point | 2 hours 03 minutes |
| 25 km | 2 hours 27 minutes |
| 30 km | 3 hours 00 minutes |
| 35 km | 3 hours 53 minutes |
| 40 km | ? |
| Goal | 4 hours 34 minutes |
Impression
Lately I joined the race every year and this is the 7th participation.
As usual, I tried to book the seat of JR limited express train to be left at 6:45 AM from Tokyo Station. However, I found the limited express train was deleted from the timetable. The train was fully occupied by runners on marathon day.
I was annoyed for a moment, but I was relieved to learn that the special marathon highway bus would be operated at 6:10 AM from Tokyo Station. I immediately booked the bus.
According to weather forecast, worryingly, it would be the coldest weather at weekend.
Anyway, I left home before 5:00 AM on Sunday morning to catch up with the first train.
As per weather forecast, it was fine and freezing. Only a few passengers took on the train.
I arrived in Tokyo Station at 5:51 AM via subway from Ikebukuro Station. I reached the bus terminal around 6:00 AM.
My bus number was two, but I was surprized to know there were ten marathon buses.
The bus route was via Tokyo Aqua Line. I saw a beautiful sunrise before the bus entered into the Aqua Line.
It was early morning and thus there was no traffic jam. The bus went smoothly. The bus arrived in Tateyama Station at 7:45 as scheduled.
When arrived, it was so cold and windy. I was worrying about the race.
I could get on the bus and got seat without waiting since there was not so many runners as yet.
When the bus reached the seashore, I could see Mt. Fuji with snow over the sea. However, I could also see steep waves.
I reached the marathon site over 8:00 AM and finished the registration.
Taking the cold into consideration, I wore thick long-sleeve shirt and long running pant.
I went to start position at 9:45 AM. I was positioned very close to front line.
It was announced that the temperature was around 4 degree Centigrade. However, I felt warmer than the temperature owing to sunshine and no wind. I wore vinyl seat just in case before start.
The full marathon race started at 10:00 AM. Only one minutes loss time. When running along seashore, the wind weakened a little bit and the wave was not so high as that of the morning. It was not so cold as expected. The top of Mt. Fuji was already covered with cloud.
I could run as usual until 10 km point. While running, I felt hot and took off vinyl sheet.
The wind started to blow stronger again when I was approaching Sotobo area, however, one I entered into Sotobo area, the wind stopped or I had the wind at my back.
Cream buns, my favorite ones, were served at the water supply points and thus I took them at several points.
Just before 20 km point, I felt tired. The time at middle-point was over 2 hours. It would be hard to complete the race within 4 hours.
The running pace further slowed down. However, I managed to reach 30 km point. I could run up the next slope. The sun disappeared and it was getting cold.
As usual, I had a small rice ball and hot tea at privately operated aid station around 31 km point. It should have refreshed me, however, this year, it was not effective owing to fatigue. To my regret, I was passed by a group of gals.
Just before 32 km point, I met a snow shower.
It was so hard for me to run the last 5 km to the goal.
At 3 km point to the goal, I suddenly wanted to go to the toilet. I lost a few minutes there.
After getting out of the toilet, I started to run at my own pace.
The goal time was 4 hours 34 minutes. My recent finish time is around 4 hours 30 minutes. It's so difficult for me to complete the race within 4 hours lately.
I return the running chip and got the gift cap. Then I had a poke soup. The soup was full of ingredients.
Since the return bus would start 16:30, I could change the wears in plenty of time. I took on the shuttle bus around 15:00. When getting off at the station, I was served a cup of hot Amazake.
I reached the station earlier than expected, and thus I asked if earlier bus was available at ticket counter. Fortunately, I could get bus ticket of 16:00.
The bus started as scheduled at 16:00. However, owing to traffic jam, it took 40 minutes to get out of Tateyama City.
I could hear someone talking loudly in the back of the bus. He was talking about marathon races and making a display of his knowledge. It was so noisy. I wished I could say "Shut up!"
The bus finally entered into the highway. I thought the bus would go smoothly. However, owing to another traffic jam on the highway, the bus was forced to move slowly. The traffic jam continued 70 minutes. I was irritated.
In the end, it took 3 hours to reach Tokyo Station. It was almost 19:00. It was unexpected circumstances.
I retuned home past 20:00. I was tired of getting on the bus.
Back