The 13th Narita POP Run
Narita Cuty, Chiba Pref.
November 7, 1999
Races
| | |
| --- | --- |
| Half | 'PC'Q'O'O |
| 'P'Okm | 'W'T'O |
| 'Rkm | 'Q'T'O |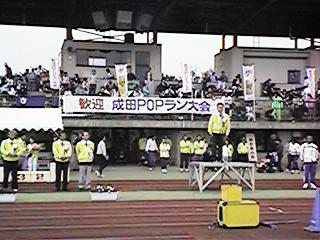 Opening Ceremony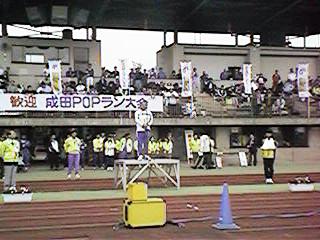 Greeting by Mr, Koide, coarch of Sekisui Chemical.
Ms. N. Takahashi was standing with her hand bandaged.
iNotejSorry that the images are too small.

My impression and record


The weatherman said that it might be cloudy. However, when I left home at 5:30 AM, it was already raining! I hurriedly put another running shoes into my carrying bag.
It had been rainy until the train approached Narita. The sky was black and thus I felt uneasy.
When I arrived in Narita, however, it was cloudy. No rain! I felt that I came here over a great distance! (It took 3 hours!)
This is the fourth races for me. Thus I am almost familiar with the course.
At previous race, I ran regardless of the pain in the left knee. Consequently, the doctor told me not to ran for a while.
This year, I did not feel pain. However, I ran with tights just in case.
Split time
| | |
| --- | --- |
| 'T'‹' | 'Q'Um |
| 'P'O'‹' | 'T'Qm |
| 'Q'O'‹' | 'Ph'S'Tm |
| Goal | 'Ph'T'Om'Q'Os |
The half marathon started at 10:00 AM. It was cloudy. It was neither hot nor cold. No wind! Good for running.
I started to run slowly as I did last year. A lot of runners passed me.
Soon, a skinny, pretty girl with ponytail passed me. Thus I decided to follow her! However, to my regret, she was shortly behind me.
When I passed the middle point, the sun slightly came out and thus it became a little bit hot.
Little by little, I felt good and started to pass several people. This was my first half marathon race in this season. I was in good condition. Maybe, it was due to the fact that I ran totally 228km in October.
Cosmoses were planted in the same rice field as previous year. However, the flower season was almost over.
On the way, I passed the pair of mentally retarded young man and his mother. I was very impressed by their earnestness for running.
After finishing the course of rice-field, there were several uphill roads. However, I could also pass several people and continue to run in good shape.
The distance to the goal from the second water supply point is 3km. It was hard. When I passed the 20km point, the running time was 1 h 45m. I thought I might reach the goal within 1 h 50m. Thus I tried to speed up as much as possible.
Even when I entered into the stadium, I continued to run as fast as possible. However,the final result was 1 h 50m 20s. I was very satisfied with the result since when I ran at the Tachikawa race, it took more than 2 hrs.
To my regret, I could not get anything to drink at the goal. Last year, a canned sport drink was served. I wondered why.
After finshing the race, I had a party with my friends at the restaurant serves 'eels'. I tasted 'Sashimi' and 'Miso Soup' of Carp. They were very delicious for me. The friends is a group named "Ebisu, A god of wealth". I met them 3 years ago at the same restaurant. They join 3 km-race every year. Every year I meet them here after the race. Only once a year! Anyway, I enjoyed very much.

Others


T-shirt for giftievery year, the design is the same but the color is differentj


A famous invited runner of this year is Ms. Naoko Takahasi who has marathon record of Japan. However, she fractured her arm at the race of last week. But to my surprise, she joined the half marathon race today!
When I managed to arrived in the stadium, she said to me "Hurrah!" I very much appreciated. I waved my hand in spite of myself. When I told this story to my running mates, they envied me!


---




Back